Heehee,This is the normal stomping ground for us USJ2'dians and that's Iqbal running towards the other side with the ball (bal,idup Liverpoolll)
crossdress to impress says:
ari ni aku balik kampung
crossdress to impress says:
mkn cam ayam
crossdress to impress says:
pastu tumpah kari atas baju XD

: - thanks to sarie,simple and spot on`
thats the best summary on what I do today.I went back to hometown wif dad on the 8'.Nice,smooth flowing roads that suit the car very well.Went back in the evening,came home and online to check on Utopia and my ZeroToHundred RE club forum.
Actually,I wanted to ask someone out this tuesday,but that someone macam tak mau pergi je XD.Cmon la,its gonna be fun I promise~
-mir
comeeeeeeeeonlaaaaa ref
SongOfTheDay : - Deep Purple - Smoke on the Water
Bosstrain
at
1:00 AM
I love Metro Driving Academy..yucks amir what???
I went to Metro with my mind just set to sleep whole day listening to battery water,tyre pressure and all,but It happened to be much much better then that.
I made new friends,and I happen to know this hawt hawt gurl named Sari.Woah,just seeing her make my eyes fresh again lol.It didnt turn out as what I expect it to be,boring and dull..today at list it was great fun.
"
Ok semua,ini bateri,paras air nya mesti selalu dijaga
"
(this is the battery,charge it often dumbo)
-mir
oyecomova..merimo..
SongOfTheDay :- Santana - OyeComoVa
Bosstrain
at
9:06 PM
My bowling arsenal
- Sportec Accura 10lbs polyester
- Brunswick Storm 12lbs polyester
- AMF Extreme 8lbs polyester
- Ebonite Tornado Warning 12lbs reactive ball
- Dexter Razor bowling shoes
Why do I like bowling so much? I must say its because of my classmate,Brandon Goh back in Form 1 Gigih.Man,Donminator I miss bowling with you.We used to look forward to every bowling practise and bowl everyweek.
The other reason why I look forward to bowling so much..is well.Michelle (the hot secretary for the bowling club) is there ..haha and I just like to look at her.Yeah,laugh all you want.. XD.Brandon used to go ga'ga also when she came by to collect fee's.
Brandon - "
Amir,she's coming oi..look good.bowl properly"
Amir - "
ok ok,ill aim for strike this time
"
hehe,yeah i went for a strike allright..a strike at the longkang.
Brandon "
Ah,let me do it la,that also cannot do meh amir?
"
He then bowls his best game for the day.As far as I remembered,his top score while playing with me is 198.Me and BG,we entered ourselves in the Sunway Bowling League when we were in form1.Ah good times
Habits,what are my bad habits..I got alot of bad habits hehehe
One of the paling teruk one is I like to bite my nails.My thumb got so severed once when I went to register for the MyKad.I get this :-
"
Adik,cuba sekali lagi,Kesat tangan dan letak atas scanner
"
Translation - (Brother,your hand is cacat'ed,please dont waste my time)
I tried that for like 15 minutes to get a proper scan.Yeah,its that bad.My mom used to whack my hand for doing that in the public..biting nails.Note to people,dont bite. :D
Today I went to Subang Square to pick up my Rileks slip.Met Thava/Jo/Eryl on the way there.Damn..Im jealous with those people who get to go to college..really I do..hahah
Everybody,all shape and sizes look cool in that area man.Guys look nicer there,Girls look hotter there..seriously,its like entering a hip zone or something.Hahah,maybe I'm just exaggerating.
- mir
yeeeeezaaahhhhhhhhhhh
SongForTheDay : Angel Dust - Bleed
Bosstrain
at
10:10 PM
ah,i went to office to meet my ex-boss..and he gave me a bonus! yeah baby now thats what I'm talking about..yes yes yes yes yes
(a new pc,bowling accessories,handphone,spend close friends,wha' else? hutang you ar?)
I bought a new bowling ball,a Ebonite Tornado Warning 12lb's.Wicked ball for a sick person.It's rated one of the best reactive ball for a beginner.I'm learning on how to bowl with a "spinner" style.Unlike my pal,Wan who does "Hooking" using his DynoThane Vendetta..I'm more incline towards spinning.
Maybe its my fetish for spinning things (football,futsal,snooker,pool,rotary engines,bowling,burnout)
"I dont want to go another day,so I'm going to tell you exactly what's on my mind"
Ini apa song ini? I want to start a new phrase on my posts,maybe i just recommend what song's that I like.hehehe yeah why not.
-mir
"I dont know what I'd do...Baby if I lost you..cause I've been without and I know how it feels..and I cant be alone anymore... I know It's more then love..baby I can feel it when I'm close to you"
Los Lonely Boys - More Than Love
Bosstrain
at
1:17 AM
I miss school..
Bosstrain
at
11:14 PM
Ah,I resigned from work..yeah finally after the torturous time there..well not all the time but most of the time..hehehe and I had enough.
Enougghhh is enough.Got my pay and i'm outta there,goodbye Milennium Consultants.Rot in the depth of hell please.
I bought a new bowling ball today,Ebonite Tornado Warning Reactive ..yeah a spinner's arsenal.Rated one of the best entry level reactive ball,I think i can do more with this piece of core.Who wants to bowl with me please tell me..hehehe
Today i saw this Squad Avanza Era FM too..hehe fun thing they give free original albums!
- mir
callnowcallnowcallnow
Bosstrain
at
9:29 PM
Hey guys,Im back from Cameron Highlands,one of the nicest place to go in Malaysia..heheh cool/comfy/nice.
I stayed in the Strawberry Park..hahah free room,so no complaints.It was definitely cold,Last i check at 8.30am it was 14c..hehehe gila sejuk and im wearing short/shirt/slipper going to the coffee house for a cup of Teh Tarik.
I was temaning my dad for his "talk" to this silly company that he got invited.I there anak baik,mengikut perintah
(in other words,good son follow what dad says XD)
There was breakfast,not bad
haha,yeah i know,whats that I'm wearing? formal siot,like Boss..hehehehe
(laughing hysterically)
It wasnt so nice during the "talk".I was damn bored as all i need to do is to press slide for my old man.Oh well at list Im here for free.hahahah
Cameron was full with strangers (hahah tourists).I saw Japanese,Swede's,American's and tons of Singaporeans.That explains why the prices are a bit over the top.My teh tarik and roti canai cost me RM4!..gila
yeesh,everything is expensive.Today,the rain start marching in Cameron...it was absolute pandamonium!.. nahh im just kidding.haha.The road heading back to Tapah was absolutely TOUGE-ish..hahaha.I bet DoriDori-kin Tsuchiya would have tons of fun driving in this "course"
yeh yeh,Tapah-touge course.Try it yourself,if you overdo it..you'll be ending up in the depth of the abyss..fuh .hahahahha
nice..I wanna go again.
-mir
yeeeeeeeeeeeeeeeeeeeeaaaaaaaaaaaaaaaaaaaaaaaaaaaaaaaaaa
Bosstrain
at
12:25 AM
ahh my baby,my dear baby all groomed up for battle.My knight in a shining armor,the blade in my sarung pedang.. The Suzuki Katana GSX750 S.
Its fast,250kmh is within my brain's neural capacitor logic.Dont mess with it please,it can bite a Ferrari's butt off with its 4sec 0-100kmh start.
Im going off to Cameron Highlands tomorrow to follow dad.He got this talk he need to give to some company.Oh well as an obidient and loyal son.I will follow him wherever he goes
*LOL XD*
Suddenly tonite,I felt like cleaning up some mess in my Documents and Recieved Files,I found this picture of me and June..man i miss her alot too.She was such a doll,keeping me happiness on check all the time
ahh June,i wish school life doesnt end so soon.
(please dont comment about my dog face,I was thinking the fact that this could be the last picture I take with her..ahhahahaha)
- mir
*tshhhchhh - amir you got to pit now,the FD's radiator cannot take much more heat*
Bosstrain
at
11:31 PM
How I miss it,my school life.
Its all just mere memories now.How I use to enjoy having to hang around with my "crew",the self proclaimed "Gin And Juice ".
Hahah,guys,I miss you..big time.
Thava - The King
Josh - Master Planner
Dom - Destroyer
Lam -Inspiration
and me..Boss Train..hahaahh
Who can possibly forgets such an experience? Experience that are so ..priceless like one of these :
Pn Sophia - "
LAM SHUN SIEW,what are you doing? Where is your work?
"
(she was refering to the homework which are consisting of like..half of the year's work XD )
Lam - "
I DID TEACHER!
"
(yeah he did allright,he didnt even have a Sejarah workbook..lolz)
Pn Sophia - "
Where? I want to see your work now
"
(Pn Sophia then went walking towards the place Lam was seating)
Lam - "*
oh shit,Thava borrow your book faster
"
(he thought Sophia was a blinded,deaf person)
Then he realised there is no escape,you have to fight it back.
Lam then stylishly sat down on his chair with his head on the table and his hands and arms sprawling all over the book.
Lam - "
Teacher,I headache ar.
"
(lolz..Lam)
Now thats something I'll remember
Then there was Josh and Thava on an Addmaths period,They wanted to ask something to teacher,then something slipped off Thava's tongue.
"
Teacher,salin what
?"
x1000 later
"
chersalinwat
?"
lol macam bahasa Thailand..haha
-mir
ssshhuusshhhhh
Bosstrain
at
10:23 PM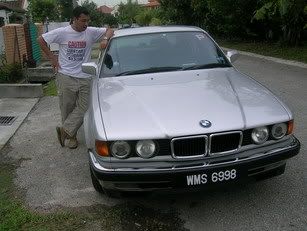 wha' else is better to start your day with some speed?
I know,Im nuts..driving like this without a license and all..ahahha but hey.Rules are meant to be broken XD
Me,"Jimbo" James and "Infernal (dog)" Sung Ming went for a fun fun day today.We executed our Operation Terraline and also later in the morning,Operation Bavaria both featuring
- a Nissan Terrano 2.4litre year 1997 (160kmh topspeed)
- a BMW E28 735iL 7 Series year 1990 ( 228kmh topspeed)
awesome stuff,went for those old school impression test.The Terrano was a tank,very stable and suprisingly quite comfortable although its size,weight and 4wd nature.We head to Dataran Prima to see the JSOC meeting and hope to get a glimpse of fast cars..hampeh
We came there,those guys are jussttt about to leave..but anyway on the way back,Top Speed Attack version 1.0.Impressions after the run?
Amir - "
wow,definitely impressed,didnt know car this big can go that fast though its so old allready
"
James - "
yeah,definitely good enough
"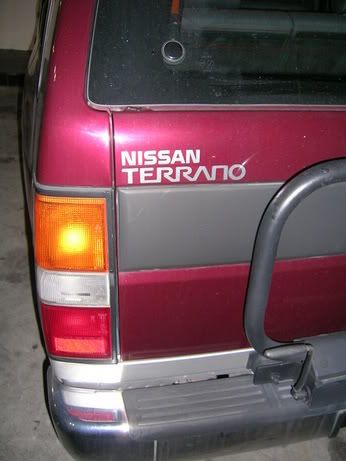 hehe,then hours later,came my silly idea of going to KLIA to have another Top Speed test..this time in a BMW,a bonafide autobahn cruiser.The 7 series E28,equipped with a 3.5 litre inline-six engine with 210horsepower and 305nm torque.Its destined that we are going to break 200kmh barrier today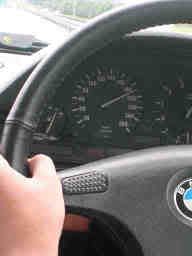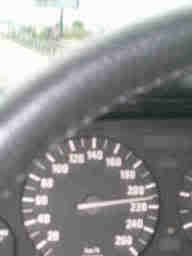 then we passed Sepang F1 Circuit too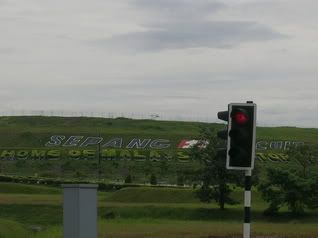 ahhh good day
-mir
zranggggggggggggggg "upshifts" trrrrrrrrrrrrrrrrrrrrrrrrrrrrrrrrrrrrrrrrr
Bosstrain
at
11:06 PM
What's wrong with jazz? Everytime people would ask me what kind of songs do I listen to,I would say
"Dude,I like Jazz the most"
then they will be Jazz? yeesh what is that? why do you listen to it,no other thing to listen meh?
..this kind of people ar..disgrace to peminat jazz sedunia sia'
lolz one more thing..online ozom is the bomb wwehhh,got this idea of doing o-zom online..hahah need a referee though...hahahahahahahahah
-mir
laaaaaaaaaaalalalalalala
Bosstrain
at
10:13 PM
thats the examination hall in my school..ahh SPM times..I dont know but im starting to miss it.Having to hear the words from the Ketua Pengawas.
"Ok murid murid,masa menjawab sudah tamat,sila habiskan jawapan terakhir anda sekarang"
(

Ok students,answering time is over,please finish your final answer now

)
then the world will stop spinning for a moment,everything pass by in slow motion.
"is this it? final judgement? thats all?..Im finished..school is over."


yeah Its over..its really done..I am free
however it wasnt the happiness I expected i would feel..I dont know why..Its a feeling of sadness creeping in me after that,going out the school with uniform for the last time..
oh ya,my friends wanted to ajak me clubbing,but I dont want to go.
Why? because what can I do there? dont take it from me,take it from my life advisors
"amir,what you gonna do there? goyang goyang kaki..then drink drink..then goyang goyang kaki again? "
hehe,you are right sis,definitely true..I would look like a desperado finding someone to sleep with hahahaha
-mir
huuuuuuuuuuuuhuhuh
Bosstrain
at
8:40 PM


*note to self,dont get caught with lies from your friends..especially when they said they will belanja you if you do the dare "

hahahahahahah today was uber' funnie
I went to lunch at Outback restaurant,Bangsar with my dad's mechanic son's,David and Freddie Wong..both being such a persistant bastards that managed to trick me time and time again to do silly things that they know I would.

It went :-

"

Relax guys I pay,you belanja me next time

" said myself with confidently as they were only drinking while I was eating,so its not that expensive..hahaha cheap ass amir.

I then was feeling a bit generous,so I wanted to give a tip inside the receipt book they left,took out my wallet and pull some RM1's and stuff it in the pocket of the book
With no remorse,I smiled but Dave's face were weird..hmm?

I walked out straight away..with David whispering something to Fred in Hokkien.



"Wha' guys? dont pull those chinese shit on me coz im not gonna buy it"





"Hey Amir,just now,did you just gave that waiter Rm50 for the tip?"





"No,I didnt,I gave him Rm1's ,just to clear up my wallet a bit"



well,I guess I cleared more then I supposed too..
Franticaly pulling out my wallet with gun slinging precision and rapid draw my wallet to see one of my Rm50 is missing..



"Goodness,Allah is great"



I ran back to the table,ask the waiter to refill my glass with ice water to buy me time..hahahah
maximus coverus.I did put Rm50 on the book,I got lucky :D
Then there was the ice cream shop where they tricked me to talk with the cashier,which was a cute eurasian named Jennifer.They dared me to ask for MSN contact or phone number.

Ok lets stop this,I dont want to go on,its bad enough that you know I did walk and ask her..hahaha

Oh ya,I want to ask you guys,do you like to being compared to someone else?
I know I dont,what do you feel bout it?

-mir
haaaaaaaaaaaaaaaaaaaaaaaaaaahha
Bosstrain
at
9:53 PM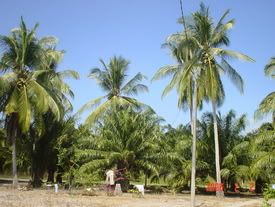 eh..how I miss my hometown,there you see some nice trees and all ..with the breeze from the beach... ahh I can smell it now..birds chirping in the air,flying in close squadron formation..circling the blue sky..
nice eh?
(not to mention my seluar that is spoiling this picture)
aiseh man,Majlis Fatwa banned Metallica? apa cerita ni,asal ada "Besi Berat" je nak ban..nothing better to do is it? Go fight some prostitute ring syndicate or something la..why must kacau one of my favourite band? mengacau steam betul.
Today I chatted with my old pal allie,she's such a doll.
I knew her long time ago,back in Form 1 when we are in the same class..hahah those days..it was fun.All I know is :-
"Hey shortie,what you doing?"
I wish I were back there to change it.Alot of things happen when I started schooling here.Its purely cultural shock.Im definitely not used to having girls sitting beside me in class,ahahah.one time,my class teacher switched me seat to the back beside this pretty young girl.I was well,stunned beyond words..haha..nervous ..sweaty..sitting beside Yue Mei..haha funny right..
Now when I look back at the times where I used to fight with her bout something silly,then Allie would come to her aid..haha
"Amir,just shut up ok? I time you with my watch see how long you can keep quiet"
stupid as I am,I thought that was a dare..actually it was a sign of she getting on her nerves.Haha,I must say she look more prettier when she is angry.Then she would time me with her cute watch for a moment..then for a long time... then around 20 minutes,she wrote with her G2 pen something on my side of the Permahaman book.
"Enjoying it ?"

Haha,Yue Mei..farnie la she..I was shocked to see her back in Form4 when she returned to Cfill.I was like..
Friend - "woah..amir now she look better then before,and she totally changed sia"
Amir - "no kidding,i thought she damn lansi one,wah she really nice la"
guys,dig this.Brandon's poem bout Yue'

Kain Batik..Kain Pelekat.
Brandon cantik..Yue Mei terpikat.

haaaaaaaaahah I miss those times.

lol..hahah life.then there was bowling,the only reason why I like bowling so much was the reason that I could see Michelle bowling..haaaaaaahahahaha and Im stuck to bowling now.
hmm,guys ..anyone of you like to go to Taiping? I like the city,its old school..old chinese guy cycling his Raleigh here and there,Kopitiam on the corner with some uncle sipping black coffee.It used to be a mining town,but now the life there moves in snail's pace.
I like the lake,the view is stunning.My family and I even had a picnic there for old time sake
(we used to picnic there every school holiday break in December)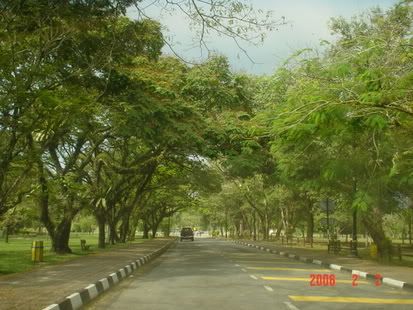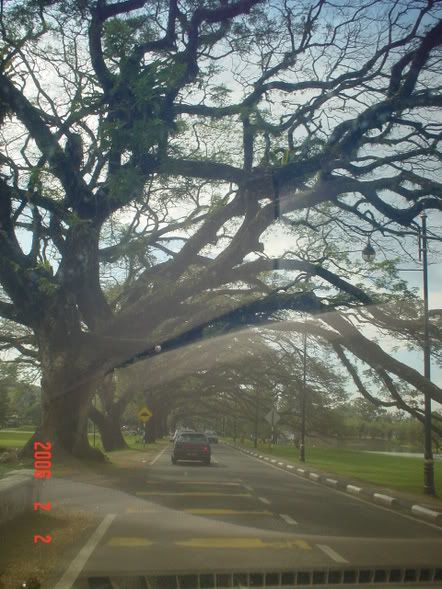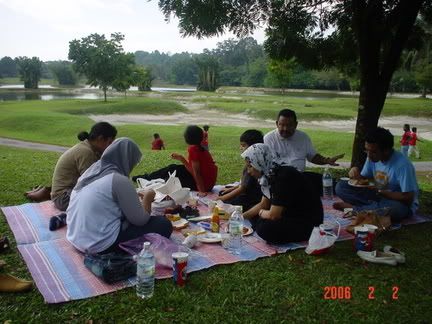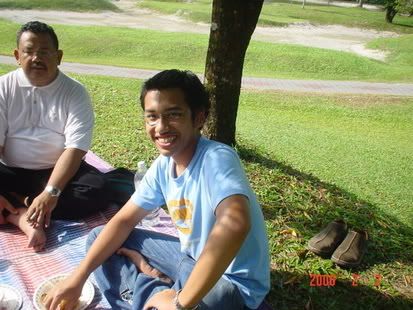 a place to be with someone nice ..definitely

-amir
yehheeehaaaahooooooooooo

Bosstrain
at
8:41 PM
Hey guys,im back blogging
just to say happie birthdayz to my dear kakak angkat,Esther Lau Der Lyn..
i got her some nice pressiez (kakak mei,you are responsible for me using this word now ~)
but doubt that itll fit her..yeesh guess i gotta get a new one,or force her to eat up hahaha

now back,where were we? oh ya.. blog
now now,today was a good start.Blue skys,no cloud in the morning
Im guessing it is because of yesterday's heavy downpour that clears up the sky today.Yea.thats it
went to breakfast,went jogging the whole USJ2..fun .since I had'nt do that in a very long time
(think Joghathon years ago)

and as usual,what is life without cars.I saw some cool R33 GTS running around in the morning,2 LanEvolution 7 and 8 too..just a refreshements for my eyes i guess.
I also noticed one thing,today why some chinese drivers got that weird tebu plant hanging out the window from their cars a?
mesti ada something ni..tapi apa benda?

believe it or not,today i gave up on something..something that i told myself dont give up.well sometimes you got to realise the reality amir..I thought i can change the thing myself,sometimes its just too powerful to change.Im talking bout a girl i like very much,she knows it,dom knows it,friend knows it..but hey,Kak Mei told me once

"amir,i dont think you are talking bout true love"

haha..i couldnt agree more now.I dont know,im sure this aint it,because if it is..ill be crying and crazy beyond my wits.hahaha

oh ya,Kak Mei? who's that?
well guys she's one of my latest addition of my pet sis collection (lol bunyi macam haiwan peliharaan pulak)
nononono
This gal im talking bout,well remember the time i ask you to vote for her in some compy at her coll?haha ya she's the one.Chee Chui Mei.wonderfull,hot,sexy,seducing (lol she can seduce own adik? susah hidup ni) and most of all ..smart and very wise..knows her roots if you get my drift.

Big note : - I do not have a fetish for hot sexy chinese chicks cum pet sister..they happen to be so nice thats all :D

Hmm,what can i tell bout her here,not much ..just that.along with Esther (her best pal..coincidentally) they both have world class knee bending smile..dont believe me? try meeting them head on man..i tell you confem kaki bergetar macam motorbot hahah.They are both beautiful smart young ladies..thus they fit to be my "kakak" hahaha..Its like this actually,lasttt time,in school,
Friends - Eh siapa awek tu? perghh mantap sia
(

who is that chick over there?they are really stunning!)
Amir - Em..ntah ar..aku taktau..tapi mmg lawa la,specially yang pakai baju pengawas tu~
(errmm..i dont know..but they are hot!,especially the one wearing the Prefects uniform)
whoosss that girlll?
yeesh,everytime we look at them (the girl's)
i wasnt looking at all of them,just two of them
(very fair,super smile,wear the librarian uniform baju kurung..and happens to go back with Pn Chong)
and there was this other girl
(very fair,looks like a malay,definitely hot,prefect,super deadly smile)
and other hotties in the group too.but my eyes were focused on only two..wanted to get to know them..but hey..im just 13 that time,the bravery/courage engine in me has not yet been fully developed,
hahaha,how life has changed for me,I now got the contacts of the two hotties at the end of their school life..which means i got no time in order to get to know them in school..sad .but hey MSN is a wondertool,it does great things and walaa..i got 2 kakak angkat's

Why am I telling the world bout this? What is it to be proud of by having them as your pet sis?
How should i know,heck im telling what i wanna tell,its not for you to decide.This is my TIME! not some perhimpunan rasmi sekolah menengah kebangsaan Seafield..

lolz,joking dude
I think its better to have someone older then you to act like sisters/brothers which you can turn to when you are in need of help.Ya..thats it..they been living a year ahead then me,so they most probably had to encounter the same problem I am facing,no?

Not to mention they are one of the highest ranking chicks in my batch (alot of guys really went gaga went kak Mei went around with her smile)
Proud to say i was one of em'

Oh ya I forgot to add,yep Kak Mei was hot..but i think Esther is hot too..lolz one time we did a poll bout.hey what the..im not suppose to tell this


ahh such is life.ga..ga.hahaha

-amir
heeeeeeheeeeeeeeeeee
Bosstrain
at
11:00 PM
Tsuchiya's idea of an ideal drift..its all his handwriting man!

Bosstrain
at
9:54 PM